When you get dentures in Richmond, with Sheen Dental Implants, you will be given lots of care advice. Dentures are used as a tooth replacement method but they are cared for in a different way from natural teeth.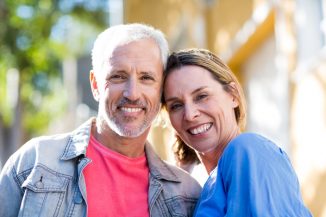 Developing a new routine can take a little time, but it is best to decide exactly how and how often you are going to perform the various parts of your routine, and stick to it. This ensures that your denture care becomes integrated into your life. Before you know it, denture care will be as second-nature as brushing your natural teeth.
Take your dentures out to clean them
One of the advantages of having dentures in Richmond is that you can get to all the hard to clean places just by taking them out. When you do so, do not hold them over the sink as, if you drop them, they are likely to break.
Bacteria and food stick to the surface of dentures even more easily than to normal teeth, so ensure that you brush them thoroughly. This helps to prevent one of the major issues facing denture wearers, which is bad breath.
Soak your dentures overnight
Many types of denture are slightly porous. This means that they can absorb particles that are not removed by brushing. They require a thorough soaking at least a few times per week. Many denture wearers choose to do this overnight, as it allows their gums to rest.
If you take your dentures out for any length of time, they need to be kept wet, so this is a good opportunity to clean them.
Don't neglect your gums
Once you have seen to your dentures, you still need to take care to brush your gums. You can use a soft bristled brush to do this gently and perhaps some mouthwash as well. Even though you may not be able to see any debris, there may be a coating of bacteria on your gums.
Replace your dentures
Even with the best care, it is sometimes best to have your dentures replaced. Your dentist at Sheen Dental can advise you on whether it is time to do this.