If you're about to have dentures fitted or you currently have dentures, you will know they come with compromises. Modern dentures are created to hug your gums securely and they also look like natural teeth, however you have to use fixative to hold dentures in place and you may have to compromise on the foods you eat and how you live your life.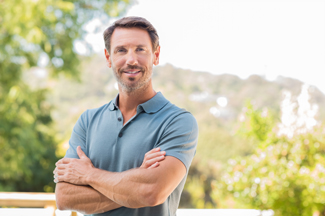 How would you feel if your dentures could be fixed in place and act exactly as your natural teeth did? This is possible thanks to dental implants, which means the complications you've faced, are now a thing of the past with retained dentures. In Richmond, Sheen Dental Implants can perform this simple procedure for you and give you back the full functionality of your natural teeth.
Dentures in Richmond: retained using dental implants
The implants themselves are small titanium screws that are fitted into your jawbone. Your body responds uniquely to titanium, the bone, nerve endings and blood vessels grow around the screw. Not only does this anchor the screw in place, it also ensures the rest of the jawbone remains healthy and strong.
How are they fitted?
This is a minor surgical operation, normally we can do this under local anaesthetic, however we will discuss this with you. During the procedure we will implant between 2-6 implants depending on whether you're having partial or full retained dentures. You will then need to let the bone grow and fuse with the implant, making it fully secure and fixed in place.
Once your jawbones healed, we will then fix your denture to your implant. You can remove them for cleaning, or they can be fully fitted. We will also make the dentures look as natural as possible, so there will be no discernible difference between your new dentures and your natural teeth.
If you'd like to know more, why not contact us today. Our friendly reception can answer any initial questions and get you booked in for your free consultation. At Sheen Dental in Richmond, Dentures will no longer spell compromise for your lifestyle, instead you can look forward to smiling all day long with confidence.