To summarise, a dental implant replaces a missing tooth. It acts as a replacement for a natural tooth and contributes in the same way. If the replacement prosthetic tooth is looked after with appropriate care then the implant has the ability to last a lifetime. It fuses the bone molecules together by attaching them to the titanium screw of the implant. This forms a much more stable and secure base from the implant to rest on. This procedure is also known as osseointegration. The typical duration of time for the bone to fuse with the gum surface is 8-12 weeks maximum. At Sheen Dental Implants we provide this service for those who have experienced tooth loss.We provide both crowns and bridges depending on our patient's dental severity. If you are interested in finding a permanent solution for tooth loss, then please do not hesitate to contact dental implants Richmond.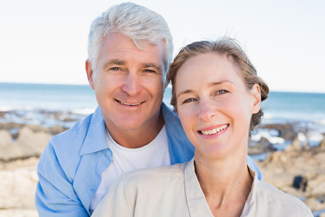 Who is the right candidate for dental implants?
Dental implants Richmond are suitable for those who are looking for a long term solution. Often in most cases, denture users complain about the removable factor. Whereas, dental implants are tightly screwed to the root in the gum which means that they are unremovable. It is suitable for those who have lost single teeth and multiple teeth. In the case of losing a single tooth, this will be treated with an alternative crown. Whereas losing multiple teeth will mean a patient must receive a bridge. Dental implants are great for those who have healthy gums. In order to receive dental implants, you need healthy gums to give the implant strength and support. However, this does not mean that people who have unhealthy gums cannot receive treatment.
Dental implants are also great for those who are willing to stay committed to an oral routine.
Once the implants have been secured into place you need to be certain that you will take care of your dental implants. Taking care of dental implants should be in the same way you take care of natural teeth. There is a common myth that dental implants do not have to be cleaned as they are artificial teeth. However, this is not true as dental implants can also attract plaque and develop gum disease. You must maintain brushing and flossing and visit our team for checkups with dental implants in Richmond. However, if you are a person who cannot keep up with a committed routine and you fear you may fall into the habit of not cleaning your teeth; this may not be the option for you.  
Those who drink excessive levels of alcohol and smoke can impact a successful implant surgery. Smoking can affect the successfulness of a dental implant surgery as it is highly significant for the healing period in the mouth. Excessive use of alcohol can hugely affect the success rate as alcohol is damaging to an individual's oral health. For those who refrain from these lifestyle factors, there is a higher chance of positive results and therefore makes them a suitable candidate.