Rebuilding your confidence
Here at Sheen Dental Implants Richmond, we've always made it a priority of ours to make sure that every patient who visits our practice for dental implant treatment leaves with a renewed sense of self-confidence and esteem.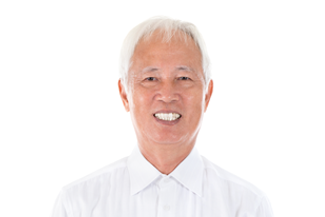 Having one or more visible gaps in your smile where teeth should be can cause people to actively refrain from smiling out of fear or embarrassment at the attention these will draw. Similarly, not only can this avoidance of smiling lead to damaged self-esteem, but missing teeth can also cause your jaw's alignment to shift, which can result in further dental or orthodontic treatments becoming necessary down the line.
Why should I choose Sheen Dental Implants Richmond?
As with all things which require care and attention, the more you put in, the more you'll get out. This is our philosophy here at Sheen Dental Implants Richmond and one which we've used to our advantage over our years of service.
By always going above and beyond to employ the best practitioners and utilise the highest quality materials and technologies, any patient who places their trust in us when they choose to undergo dental implant treatment can rest assured that they are in the safest hands possible.
While the permanent and life-changing effects of dental implants are well documented, there still remains a considerable number of people out there who are either unaware of what dental implants actually are, or do not understand how they differ from more conventional treatments for lost teeth.
One of the most recognised treatments for lost teeth is the dental bridge, which is commonly significantly cheaper than dental implants.
However, unlike implants, dentures and bridges are not permanently fused in place and therefore depend on the strength of the patient's existing teeth in order to be comfortable and effective. This means that, over time, these treatments have a tendency to shift out of place as the patient's remaining natural teeth attempt to fill the space themselves.
By opting for dental implants, patients can chew, speak and live their lives without any fear of either exposing gaps within their mouths or needing further treatments in a few years.
What does getting dental implants involve?
Unlike the more common treatments for lost teeth, the process of getting dental implants requires a small surgical procedure in order for the implant to be permanently fixed in place.
As such, before we carry out implantation here at our clinic, we always implement a preliminary dental examination to identify whether or not pre-existing dental problems such as decay or gum disease may stand in the way of the success of the procedure.
After we've identified and rectified anything which may prevent the success of the dental implant procedure, we can then begin the actual process.
This initially involves surgically making a hole in the patient's jaw where the implant will be placed. Into this hole, our implant practitioners will then place a specialist titanium-alloy socket, which will act as the implant's anchor point. This socket merges itself to the patient's jaw tissue through the titanium alloy's biocompatibility.
Once the socket has fused with the patient's jawbone, a prosthetic crown can then be fixed upon it (similar to how a natural tooth is secured) and the patient can begin using their renewed smile to their heart's content. This procedure can also be used to anchor prosthetics replacing multiple teeth.