Here at Sheen Dental Implants in Richmond we pride ourselves on our professional, friendly and straightforward approach to restoring your smile. Whether it's one tooth or twenty that you wish to replace, our dedicated dental professionals will ensure that you have the right support from the moment you walk into our practice. Missing teeth can cause low self-esteem as well as prevent you from doing everyday things such as eating and talking with ease. Implants eradicate these issues by offering a permanent fixture that does not come loose randomly or get stuck whilst you are enjoying your favourite chewy foods. If you feel that implants could benefit your smile then book a consultation appointment with us today. You can book an appointment at a time that is convenient to you through our website or over the phone if you would prefer to speak to a member of our team.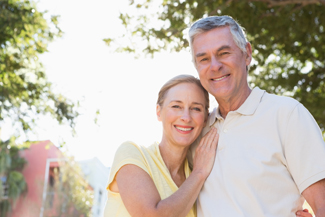 How do implants work?
After your initial free consultation at our practice at Sheen Dental Implants in Richmond, you will have two more appointments with us to complete your smile. This can of course vary between patients, depending on their own unique circumstances. At the first appointment you will have a titanium screw, or multiple if you are having several teeth replaced, inserted into your jawbone. This will need to be left to heal for several weeks, but afterwards will provide a suitable support for your new tooth – or teeth – to screw on to. Whilst one implant is required to support a singular tooth replacement you will not usually need one implant per tooth when you are having multiple teeth replaced as they are capable of supporting more than one tooth. An entire set of teeth can be replaced with as little as four implants in some cases.
After your mouth has healed your implants will be ready to have your new teeth attached to them. What type of fixture you have will be decided by one of dental professionals and explained to you at your first appointment. A crown is commonly used to replace a singular tooth that has fallen out, whilst a bridge is attached to implants to replace several teeth in a row or missing teeth on either side of an original tooth. The half dentures and full dentures are used to replace a higher number of teeth. This can sometimes be a whole mouthful of teeth, or just the upper or lower set.
Durable and effortless
Once you have had implants fitted with us at Sheen Dental Implants in Richmond we will ensure that you know how to take care of them properly too. Similar to your original teeth, you will need to make sure that you brush your new teeth properly twice a day. Your dental practitioner will explain how to do this and advise you on what types of brushes to use. Unlike dentures implants remain in your mouth permanently and they are extremely durable, lasting for up to ten years or more when they are taken care of. However, if you neglect to clean them properly they will suffer from a build-up of plaque and will need to be replaced sooner.