Losing teeth can be stressful, but it doesn't need to be. At Sheen Dental Implants we endeavour to replace your missing teeth, whether it is just the one tooth or all of them, with comfortable, natural looking teeth that you can be proud of. When you make the decision to get dental implants in Richmond you will be guided through the entire process by one of our dental professionals. At your free consultation appointment they will carry out an in-depth assessment of your mouth to decide which treatment is most suited to your individual circumstances.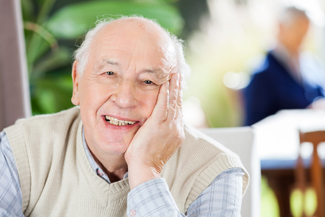 What types of treatment are there?
It is a common misconception that dental implants in Richmond can only be used to replace a full set of teeth. Contrary to this, you can have implants to replace just one tooth or several teeth, with some people opting for implants because their dentures persistently come loose or are just not comfortable. How many implants you need will depend on how many teeth you are having replaced, but you will not always require one implant per tooth as they are capable of supporting multiple teeth.
This type of treatment is usually carried out in two parts. During the first part of your treatment you will have a small titanium screw inserted into your jawbone. This acts as the root for your new tooth and will continue to stimulate your jawbone in the same way that your original tooth or teeth did, preventing it from disintegrating slowly over time. Multiple screws will be inserted for those people who need to have a few or an entire set of teeth replaced, but the amount can vary depending on each individual's situation.
After your mouth has healed from having the implants inserted you will return to our practice to complete your smile. For singular tooth replacements a crown will be attached to your implant, whilst bridges and half or full dentures will be used to replace multiple teeth and entire sets. A bridge can be used for missing teeth that are either side of an original tooth as well as for several teeth that are missing directly next to each other.
Why implants?
When your teeth fall out your jawbone is no longer stimulated. This means that over time it can disintegrate and change the shape of your face, resulting in premature aging. Implants can prevent this from happening by ensuring that your jawbone remains stimulated, as they trick your body into thinking that they are real teeth.
Whilst dental implants in Richmond are not usually available on the NHS, there are several reasons why our patients opt to have them over traditional dentures. They are fixed into your jawbone, meaning that you can eat and chew whatever foods you wish to, wherever you are, without worrying that your teeth will come loose or fall out. In addition to this, implants are made to specifically feel like your original teeth, resulting in optimum comfort and a natural looking smile.
For more information on how we carry out implant procedures here at Sheen Dental, please take a look at our website or give us a call with any questions that you have.